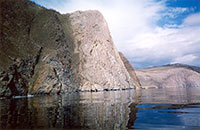 Lake Baikal is an inexpressible miracle on a coast which amazes and defies comprehension. Baikal is the deepest lake on the Earth and contains about 20% of the Earth's freshwaters. The water of the lake is distinguished by its exceptional clarity and cleanness.
Baikal being located in the centre of Eastern Siberia. Lake Baikal surrounded by mountain ridges. There are 30 rock islands over Baikal, the largest, Olkhon, being 72 kilometers long. A necklet of coniferous forests, decorating the shore mountain chains, creates a unique beauty of landscapes, shelters animals and birds, and enlivens the surroundings.
For almost five months a year Baikal is covered with ice. The freezing take place only in the middle of winter. The lake is freed of its ice incarceration around May-June.
It is impossible to tell you everything about Lake Baikal. It should be seen. Baikal is really magnificent at any time of the year. This site offers you photos taken while kayaking in Baikal.