Lake Khankhoy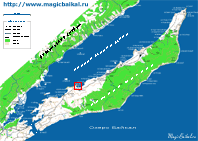 Take a look at lake Khankhoy on the map of Olkhon
Lake Khankhoy is situated in the central part of Olkhon's western coast. It is well–known for its warm water and abundant fish. The lake is approximately 800 metres by 500 metres. At its northern end, it is separated from Lake Baikal by a massive rocky ridge that falls steeply into Baikal but gently slopes down to the lake. A splendid view of the Maloye Morye, its islands and the Primorskiy mountain range opens out from the ridge. In the east, the lake is cut off from Baikal by a sandy spit, 30–50 metres wide.
The lake is connected to Baikal by a narrow channel, one or two metres wide, through the spit. The channel is very shallow — only 15–30 cm deep; even a kayak can pass through it only when empty. At times the channel is closed by sand drifts. Apparently, fish enter the lake via this passage in the spring.
There are no trees on the shores of the lake, and no firewood. Its western side is slightly marshy, and the lake floor is silty. Except for the part of the lake adjacent to the sandy spit, Lake Khankhoy is almost everywhere overgrown with algae that fail by only 20–30 cm to reach the surface. The lake is 2–4 metres deep. Its water warm and quite clear, but not always and not everywhere. At best, visibility in the water is from two to four metres.
The lake is inhabited by roach, perch and pike — the latter in large numbers, some of considerable size — 10 kg or more. Fishing for pike with a spinning rod requires particular skill as, because of the algae, one has to draw the fly over the very surface, but one can make a catch even from the shore. The place is good for fishermen also for the fact that one can go out into Baikal in a boat, or descend a path to the rocks at the bottom of the cliffs and catch grayling.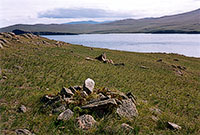 Ancient burial grounds near Lake Khankhoy. Olkhon's north coast.
There are a few archaeological sites not far from the lake. A small distance away from its western end the remains of an ancient (7th century B.C. — 10th century A.D.) religious complex including over twenty stone structures were discovered, and next to them a more modern (17th–19th century) religious site with three stone «obo» (tr. small balanced «tower» of stones in the form of a pyramid). At the top of the rocky ridge, steeply dropping into Baikal and separating the lake from the Maloye Morye, an ancient burial ground and remains of religious constructions have been discovered.
In July and August large numbers of tourists line its shores. The majority come by car in large numbers, setting up camp everywhere, even on the spit. As a result of its popularity with tourists, the environmental situation at lake Khankhoy is oppressive.
Related links: