Olkhonskiye Vorota Strait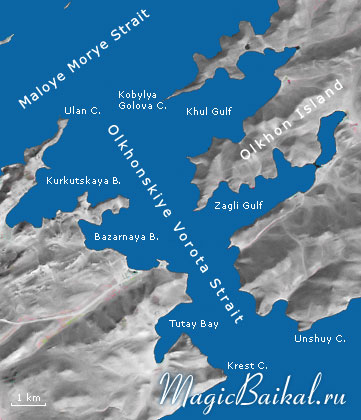 Olkhonskiye Vorota Strait
Source for this data set was the Global Land Cover Facility, www.landcover.org.
The south–western part of Olkhon, Baikal's largest island, is separated from the mainland by a narrow strait called the Olkhonskiye Vorota (Olkhon Gates). Formerly, local inhabitants called it Amyn, and at times Olkhonsky Zund.
The south–western part of the Maloye Morye is linked with Baikal proper by the Olkhonskiye Vorota. The strait opens out into the Maloye Morye at capes Ulan and Kobylya Golova (mare's head). At this point the Vorota are at their greatest width (if one doesn't count mainland and island bays situated within the strait) — some 2.7 km. Eight and a half kilometres on, between capes Unshui and Krest, the waters of the strait join Baikal where the width is 2.4 km. The narrowest part of Olkhonskiye Vorota is situated between capes in the central part of the strait, where its width is about 1.3 km.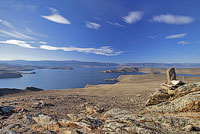 Olkhonskiye Vorota Strait
The strait is 30–40 metres deep; the northern part is shallower, while the southern, approaching Baikal, deeper: reaching 100 metres along the line between capes Unshui and Krest.
The shores of the Olkhonskiye Vorota are cut into by deep inlets. The most prominent bays on the mainland are Kurkutskaya, Bazarnaya and Tutai, and on Olkhon — Khul and Zagli. The inlets on the Olkhon side of the Vorota are deep and protected from wind, making them convenient shelters for vessels against bad weather. The mainland bays are shallow.
To the north, directly along the central line of the Olkhonskiye Vorota, is the ravine of the river Sarma from which the strongest of Baikal's wind rushes out — a mountain wind known here as the Sarma. The strait is considered to be one of the most dangerous areas at Baikal for shipping. The wind almost always blows here and waves billow.

Olkhonskiye Vorota Strait
A ferry linking the island with the mainland plies the Olkhonskiye Vorota.