Cape Sagan–Khushun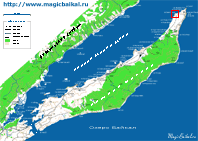 Take a look at Cape Sagan–Khushun on the map of Olkhon
Cape Sagan–Khushun is on the western coast of the Island of Olkhon, five kilometres to the south–west of Cape Khoboy, at the northern end of the island, in Pribaikalskiy National Park. The cape has the status of a natural monument. Sagan–Khushun is an extensive white–marble rock massif dropping steeply into Baikal — this is how the cape looks from the water. Quite another picture presents itself from the land: Sagan–Khushun is cut into a whole ensemble of crags, almost unrecognisably transfigured depending on angle of vision. The cape is about one kilometre in length, its cliffs covered by patches of red lichen, contrasting splendidly with the light rocks.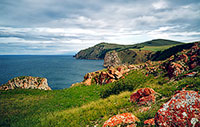 The view of the northern end of Olkhon, Cape Khoboy, from the top of Cape Sagan–Khushun.
The name «Sagan–Khushun» comes from the Buryat «White Cape». One of a group of cliffs in the southern part of Cape Sagan–Khushun is called Tri Brata (three brothers). The cape is known for its archaeological sites. The remains of a rampart and ditch some 600 metres long have been preserved on the neck of the cape, dating back to the 5th–10th century B.C.
There is a cave in the cape, some 2.5 by 6 metres in size, high enough for a person to stand up in almost everywhere. Like the well–known cave in Cape Burkhan, the cave in the cliffs of Sagan–Khushun has two entrances, the second of which is very narrow — obstructed by an enormous stone block.

Panorama of Cape Sagan–Khushun.
From the water, one can climb the cape by a path on its southern side, and also from Sagan–Khushun bay to the north of the cape. Wonderful views of the Maloye Morye, the Primorskiy mountain range, and, when visibility is good, the eastern shores of Lake Baikal open out from the top of Cape Sagan–Khushun. From this point, the northern end of the island, Cape Khoboy, can also be seen.
Sagan–Khushun is very beautiful in winter — many metres of rocks become covered by ice and ice spray–pillars — «sokui», sparkling in the beams of the winter sun.
Photographs taken from the top of Cape Sagan–Khushun can be seen in the photo album section dedicated to the Maloye Morye.
Related links: